Thursday, July 1, 2021 marks the first day of cannabis legalization in the Commonwealth of Virginia. In honor of this momentous occasion, VAMJ is hosting "The Great Commonwealth Cannabis Seed Share" to facilitate personal home cultivation of cannabis permitted under the new law. This will be Virginia residents' first legal opportunity to share seeds with other adults and start down the path of legally growing their own cannabis in the safety and privacy of their homes. This event will be hosted in several locations throughout the state.
Are you looking for seeds? Can you donate seeds? Or could you allow your home to be used on this historic day? Please sign up here!
Click here to spread the word on Facebook!
---
We are extremely excited about Day 1 of legalization! We have waited our entire lives for the law to change and we are about to make history together. There is still a lot of work to be done before marijuana justice is fully realized– from freeing pot prisoners to expanding home grow rights to ensuring Virginia's adult-use industry is not comprised of a bunch of rich white guys with deep pockets who don't care about cannabis culture to supporting and empowering our BIPOC brothers and sisters who have been most harmed by Virginia's war on cannabis. Legalization is only beginning and tomorrow we can finally celebrate.
---
We started planning this a few months ago, but it was only in the last couple weeks that the general public found out about our endeavor. If we had more time and more donors, we would have more areas of Virginia covered. Everyone working on this has volunteered their time, so please understand we are doing our best.
So far we have received over 15,000 seeds from numerous donors. 95% of the bags & tubes contain 6 seeds each. A few bags contain 3 or 4 seeds. Our aim is to give everyone at least 6 seeds tomorrow.
But as we mentioned before, registration does not guarantee you seeds. Over 4,000 people have registered and we expect to run out in some locations. The seeds will be given out on a first come, first served basis. Hopefully, some of you will grow a male and female plant and be able to harvest seeds for the next seed give away.  It's only through the generosity of the cannabis community is this even possible!
IMPORTANT – PLEASE READ (the rules!)
YOU MUST BRING YOUR ID. No seeds will be given out to individuals under 21 years of age. Make sure your ID is not expired. No ID, no seeds. Period.
NO SALES. The seeds are not for sale. We are not taking cash for the seeds or requiring anything of value in exchange for the seeds. THEY ARE A GIFT. Please do not bring cannabis to sell to people.
NO CONSUMPTION OF CANNABIS – Do not consume cannabis while in line. Public use of cannabis is not allowed. Do not get arrested on the first day of legalization!
BE RESPECTFUL – If you see a senior citizen in line behind you, let them go ahead of you. They have waited longer than you to grow cannabis. You might have to wait in line for a long time, so patience is key and some of us have been really really patient. Get to know people in line. Make friends with them. Exchange contact info because they might have some good growing tips! Wear a mask if you haven't been vaccinated.
BE RESPECTFUL PART 2 – The venues that are hosting the seed share are doing so out of their own generosity. Be on your best behavior. If we are to do this again, we need to treat the owners and residents of these neighborhoods with the utmost respect.
DON'T FORGET! Bring water, umbrella for shade, a chair, snacks, a good attitude, and your unexpired, government issued ID! We recommend using the bathroom before you leave home so there is not a run on bathrooms.
---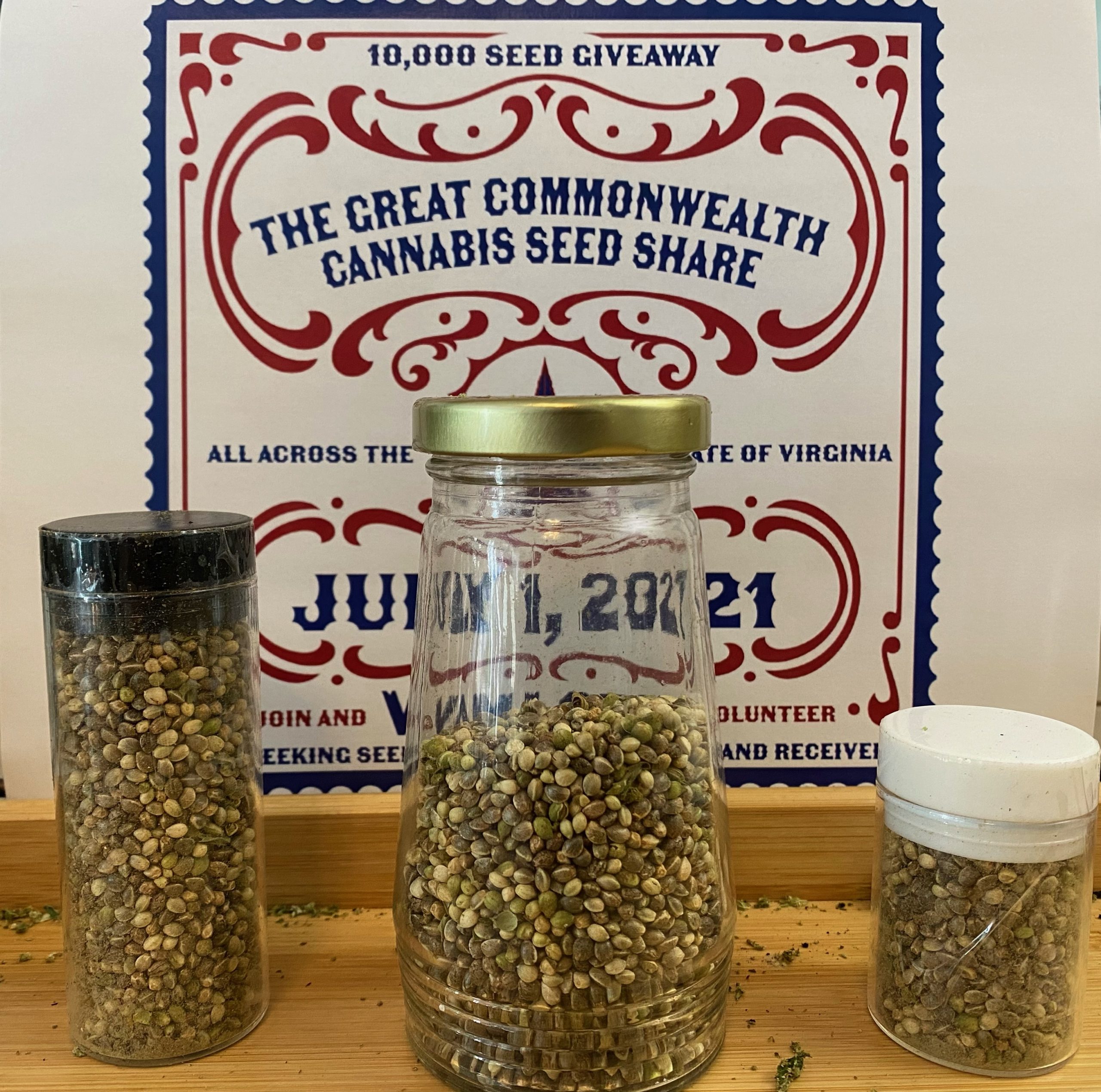 Managing Expectations
After our friends at DCMJ did their Spring Seed Shares in March 2015, we learned a few important lessons that we'd like to share.
First, the seeds you start out with don't need to be special, rather they just need to germinate. While the ones we are giving away are all decent seeds, most are not "feminized," which means you may end up with a male plant. We believe that it is important to learn how to grow the entire cannabis plant and during the first stage of growth, males and females are indistinguishable. While a male plant will not give you smokable buds, you can eat the leaves and still get medicinal benefits. Moreover, if you end up with a male and female, you will never have to worry about finding seeds again because one pollinated female plant will yield thousands of seeds. You can also spray your pollinated buds (which contain baby seeds) with a mist of colloidal silver and make feminized seeds. There are ample videos and tutorials online that can teach you everything you need to know. The seed is only the beginning, so don't fall for the hype of trying to score name brand seeds if this is your first grow.
Second, your first home grow will probably yield you the most expensive ounce of cannabis you've ever paid for. The fresh soil, LED lights, fans, grow bags, fencing, organic nutrients, electricity, water, and your time all combine for the most expensive cannabis you've ever purchased. Before you go all out and buy the most expensive equipment to grow the dankest gas this side of the Appalachians, we recommend starting small and slowly getting more equipment as your cultivation skills improve. About 6 months after DCMJ's 2015 Spring Seed Shares, there was a glut of used grow equipment available for sale. Many cannabis enthusiasts found out that they didn't have the green thumb or the patience needed to grow cannabis and they gave up. You really only need 4 things to grow cannabis: soil, water, sun, and time. Most forget to water (or over water!) and do not have the patience to tend to their plants every day. By the time some of you figure this out, the dispensaries will be open. There is a learning curve to grow high quality cannabis and the most important thing you can do is be patient and learn what works and what doesn't work.
Third, VAMJ does not represent the cannabis industry. Rather, we fight the cannabis industry. They have one goal: profit. We have a bigger goal: justice. In every state the cannabis industry operates, they spend millions of dollars fighting consumers (and growers) to ensure the state's laws & regulations are designed to maximize their profits. While there are some good players, we remain suspicious of most cannabis businesses, especially multi-state operators. We've seen too many snake oil salesmen to give our trust freely. The only legit cannabis businesses right now in Virginia, aside from the medical cannabis dispensaries, are the garden supply stores and the cultivation consultants. Garden supply stores will help you get your grow off the ground and you are also supporting a local business instead of Amazon. The cultivation consultant will be the person who trains you how to grow your cannabis by taking their class or they'll come to your home and help you setup your grow. Be careful if someone promises too much.
Fourth, we believe the cornerstone of marijuana justice is being able to grow your own cannabis. We believe these seeds can be seen as a form of reparations. By being self-sufficient you do not need to worry about when the dispensaries are going to open or if they are using toxic chemicals on a massive spider mite infestation. These free seed will provide important jobs skills to all Virginians. By growing your own, you know exactly what went into your plant and can tell your neighbor when you give them a gram for Christmas. Home growers serve as a counterbalance to the corporate interests. Big Cannabis will not cultivate slow-growing strains because they are not profitable, but you can grow them because you want to. Eventually we want you to be able to sell your extra cannabis at farmer's markets so that you can make some extra money. The Virginia cannabis cottage industry starts tomorrow. We believe craft cannabis will be a cottage industry and home growers will be at the forefront, but only if we join forces and demand legislators reform the law.
Finally, the fight isn't over. Just because you can grow your own cannabis, doesn't mean that the war on drugs is won. We still have a lot of work to do to ensure not only local legalization, but legalization across the country, to benefit all interested parties. There are still friends and family members in jail for cannabis in Virginia. We need to demand their immediate release. The governor can do this TODAY. We need to demand that the cannabis industry in Virginia reflects Virginia. Meaning that the licenses that will be given out in the next few years don't go to the wealthy, well-connected players, but folks like us, who have been working to reform cannabis laws or have experienced Virginia's failed War on Drugs first hand.
It's time to plant the seeds of change!